Start Your Acute Care CNA Career
The StarTech CNA Program is a paid Specialty Training Program for Certified Nursing Assistants that will teach you all of the skills you need to work in the acute care environment. We welcome both new and recent graduates, with under 5 years of CNA experience, who are interested in working in acute care to explore our program. We are now selecting colleagues for our April StarTech class. We invite licensed Certified Nursing Assistants to connect directly with our team to learn more and schedule a time to attend one of our upcoming interview days.
Chart Your Career Growth within Our Large Network
The StarTech Program for CNAs is a full time 6 week program, including the clinical preceptorship. The first two weeks include a combination of didactic education and skills training. The remaining four weeks are spent at the sponsoring facility working with a RN Preceptor and "Certified Nurse Assistant Buddy". At the successful conclusion of the program, all Certified Nursing Assistants will become hospital employees at one of our 4 hospitals in Broward County.
Our Broward County Locations
Northwest Medical Center | 2801 N State Rd 7 Margate, FL
University Hospital & Medical Center | 7201 N University Dr Tamarac, FL
Plantation General Hospital | 401 NW 42nd Ave Plantation, FL
Westside Regional Medical Center | 8201 W Broward Blvd Plantation, FL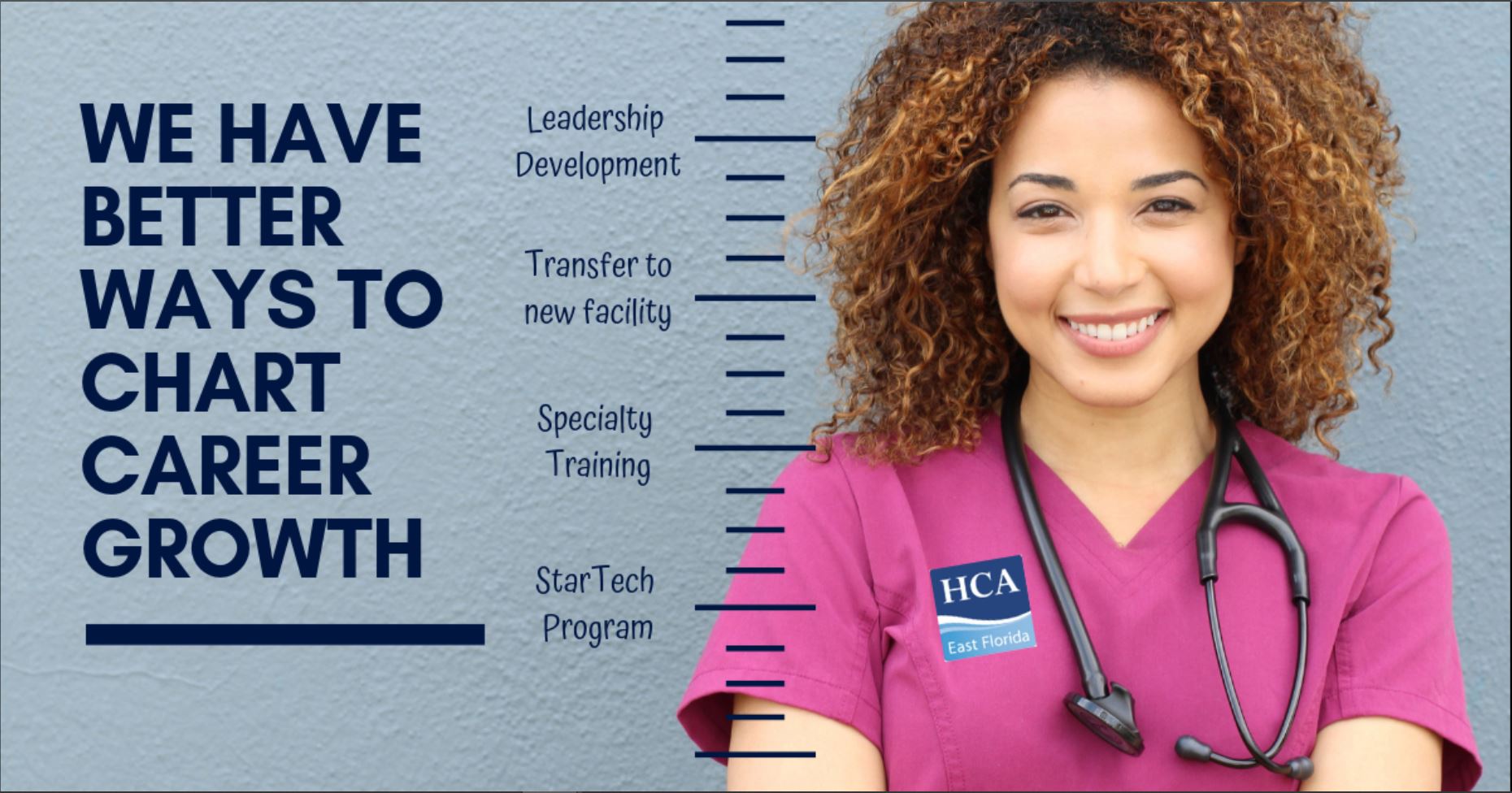 StarTech Program Interest

Fill out this quick form to connect directly with our recruiter!
---
There was an error with the form submission.
Unlock the Possibilities
Every day, we seek to raise the bar higher, not only for ourselves, but for healthcare everywhere. HCA Healthcare East Florida Division is the largest health system from the Treasure Coast to Miami Dade County encompassing 14 hospitals and more than 18,000 colleagues… and being bigger isn't our goal. Being better is.
Here you'll find career growth advantages and resources that are second to none. You'll also find a commitment to your success as a person as well as a professional.
You can chart your growth within our large network to last your entire career. We offer more to our colleagues and support them in advancing across our robust network of facilities. We nurture our colleagues through education, professional development, and pathways for personal and professional growth. Join us and build your career with the people who are as dedicated to raising the bar as you are. We believe excellent people make excellence happen. If this sounds like the type of meaningful work you'd like to be a part of, we hope you'll consider our careers at HCA Healthcare East Florida.