We have 18 ERs located throughout the region to meet your needs.
When minor symptoms like dizziness, heartburn or stomach pain turn into a real emergency, you need to get to an emergency room fast. With 18 ERs conveniently located throughout the region, you can reach an HCA East Florida hospital ER near you.
And when your little one has a mishap, or those smaller aches and pains turn into a high fever or symptoms that get better and then come back even worse, our kid-friendly ERs are just a hop, skip and jump away for your entire family.
ER

Symptom Checker — When should you go?
Top Symptoms Requiring ER Visits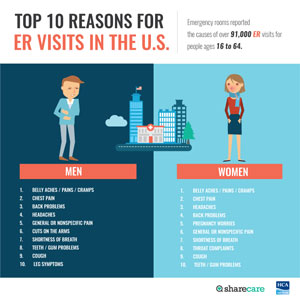 Head injury or other major trauma
Heart attack or stroke
Life-threatening conditions
Loss of consciousness
One-sided weakness or numbness
Open fractures
Severe bleeding
Signs of heart attack/chest pain
Severe abdominal pain
Uncontrolled pain or bleeding
ER for Children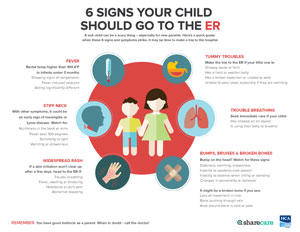 All of our ERs are kid-friendly with 24-hour services, the latest technology, and caring staff. Our emergency rooms are prepared for your little one's mishaps. In fact, our ERs treated over 129,000 kids last year.
Fastest Average ER Wait Times
Home, ER, and Home Again
HCA East Florida hospitals offer the shortest wait times in our area. In fact, our average ER wait times are consistently faster than state and national averages. Plus, we treat more emergencies than any other healthcare system in the region.
2016 Averages (Median)
Source: Hospital Compare, April 1, 2015 - March 31, 2016
8
Aventura Hospital and Medical Center
5
JFK Medical Center North Campus
7
Kendall Regional Medical Center
6
Lawnwood Regional Medical Center
6
Northwest Medical Center
7
Plantation General Hospital
4
St Lucie Medical Center
8
University Hospital & Medical Center
5
Westside Regional Medical Center
25 Min
Florida State Average
Emergency? Dial 911. Listen to your body. If your symptoms appear life-threatening, don't drive. Call for an ambulance.